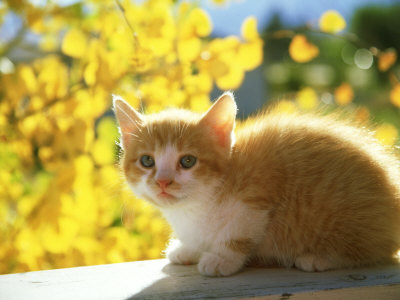 .:General Info:.
Name
Lulu
Age
4 moons olds
Sex
She-kit
Clan
Kittypet
Personality
Lulu is a friendly little high-energy she-kit with a heart of gold. Lulu is loyal, noble, innocent, kind, caring, pure, and good. She prefers to be able to make her own decisions from time to time. Lulu can be
extremely
overwhelming when she's excited, and can get startled if she runs into something she doesn't know what is. She'd never go down a dark path or be involved with an evil cat, her nature doesn't allow her to. She'll speak her mind if someone is being rude to her, but Lulu can get a bit short if she get pushed far enough. Lulu is also quite smart, though it usually doesn't show through her bright, bubbly personality. She can also be a bit naive with new cats, and has been somewhat drawn to the forest since she was first allowed outside.
Appearance
Lulu is orange with tabby stripes and a white underbelly. Her eyes are light blue with an innocent spark of curiosity, and she always has on a pink collar with a heart charm on it.
Mate
She's a kit
Kits
She's a kit
.:Personal Info:.
Sexuality
Straight
Likes
Exploring, playing, other cats, sunshine, outside, her mouse toy, and her twolegs
Dislikes
Mean twolegs, being bored, having to sit still, rainy days, and being forced to stay inside
Strengths
Sense of adventure, hidden intelligence, and her hyper, cheery personality
Weaknesses
Weak, naïve, easily manipulated, and she doesn't know about most things
History
Lulu was born to a kittypet named Sunshine and never knew her father. She was decent sized beside her two brothers and one sister, and stuck close to her siblings most of the time. Eventually, her siblings were given away to other twolegs, but Lulu was kept close to her mother. She's lived comfortably in her twoleg nest ever since.
.:Family:.
Mother
Her mom is an orange she-cat with a white chest and white paws and blue eyes named Sunshine.
Father
An unknown loner
Aunts
None that she knows of
Uncles
None that she knows of
Siblings
Brother(s): She has two brothers. Their names are Splash and Spot. Splash has an orange pelt and has white splotches on his nose, left ear, and right thigh. His eyes are blue. Spot also has an orange pelt, but the only white on him is his underbelly. He has green eyes.
Sister(s): Lulu only has one sister. Her name is Kiki, a completely white kit with blue-green eyes.